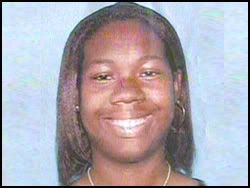 Black Single Mothers love to shirk their responsibility. They love to throw open their legs whenever the wind blows. They are having abortions at higher rates than any other race of woman.
And they kill their own babies.


20 year old Ciara Craig, from Kenner, La. killed her 1 day old baby by dropping it into a lake.

Kenner Police Chief Steve Caraway reported "she said she was not ready to raise a baby," Caraway said. "She said it was the result of a one-night stand and she did not want it." (Read whole story...)

Ciara Craig killed her own baby...because...because...she was not ready to raise it? So because Ciara Craig is a lazy whore her baby dies?

She is lazy & a whore--it needs to be said twice!


The mother was trying to hide her pregnancy from her parents.
She has been charged with first-degree murder.
An autopsy is set for Wednesday on the baby girl.

It's not a hard conclusion to draw...Black Women suck.