Every time I look at the taxes withheld from my paycheck I think about all the Black Women banging down the welfare office doors getting our money. They sit in there a few hours in their leather coats & hip hop attire including the stupid Baby Phat boots.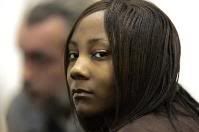 These lazy Black Women don't just avoid responsibility for becoming mothers. They don't just avoid taking responsibility for having sex with any man that can fit between their legs. They have to take it one or two steps further.

In fact, if they aren't killing their children, they're using their children to scam welfare benefits from people like me who work for a living.

Thanks to Raquel Rutledge of the Journal Sentinel for busting these Black Welfare Queens right the hell out. I love it when crooks go to jail.

Let's look at some highlights of this particular Black Welfare Queen scam:

Sisters or other relatives can stay home, swap kids and receive taxpayer dollars. The four Racine sisters took in as much as $540,000 in taxpayer dollars in less than three years, mostly to watch each other's kids.
Rules allow parents to be employed by child-care providers and enroll their children at the same place. At some centers, children of employees make up the majority of kids in day care. In one Milwaukee location, an employer and parents are accused of teaming up to bilk the system out of more than $360,000..
Child-care subsidy recipients have been allowed to work for almost any type of business. Payments were made when moms claimed to work ironing a man's shirts, drying fruit and selling artwork they made during art class.
The government pays for child care while parents sleep. Counties have no way to monitor whether parents are actually sleeping while their kids are in day care.
Wouldn't you know this involves a Pride of Serial Single Black Mothers? Of course it does! Here's a smidgen from one of the Black Welfare Queen's track record as a child care provider:


Torneshia Simmons, a 28-year-old single mother of five...explained how she and her three sisters have been caring for each other's kids for years.

Simmons first became an approved provider and received Wisconsin Shares money in 2002. Her sister Shanta McKinney first received child-care subsidies in 2003. Other sisters Tumina Ransom and Temeshe Brown got into the business in 2006 and 2007, according to state regulators.

For a while, Simmons took care of Ransom's and Brown's kids, she said. Then last summer her 2-year-old son was found wandering around outside unsupervised. The county shut down her child-care operation.

Take a moment to view the video for a detailed explanation of how these Black Welfare Queens scammed tax-payer's money & used their children as a payday, how they got caught, & a few other lazy slobs who got caught.

Notice how the Black Welfare Queen responds to Raquel Rutledge with a extremely immature shaming tactic,

"It's 50,000 child care providers around here. Now why am I the only person you coming over here to talk to..."



First thing, to you stupid, shaming tactic Welfare Queen, it's not 50,000 child care providers around "here". We know you pulled that number out of your big fat lazy ass. We know you were stalling for time while your fifth grade educated brain prepared to deliver the next gem, i.e., you're the "only one" she's talking to. Of course we know she's been tracking you down along with the other lazy Black Welfare Queens in the video's conclusion.

This story in it's entirety can be found here.



It's not a hard conclusion to draw...Black Women suck.